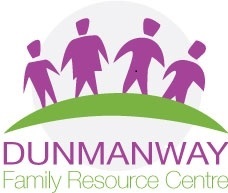 Our Vision. A sustainable community, based on a spirit of friendship, where everybody can feel valued and supported
Dunmanway Family Resource Centre is one of 106 Family Resource Centres, (FRC) in the country under the umbrella of the Child and Family Agency (Tusla). We are part of a programme called the Family and Community services Resource Centre programme. The aim of the programme is to combat disadvantage and improve supports to families, individuals and the community. Support is provided by involving the local community and in partnership with community, voluntary and statutory organisations.
We offer a variety of programmes and supports through core funding from Tusla and HSE. These include family support (one to one and group based), and  older people's services. We source separate funding to support individual members of our community as best we can.
Our mission is to build links between groups, families and individuals and to reach out and provide a range of services to encourage a community where everybody is valued and supported.
Dunmanway Family Resource Centre CLG, Kilbarry Road, Dunmanway, Co. Cork P47 EC43
Company No. 457752 Charity No. 20071349 CHY No 18545